The mission of West Hills High School is to graduate critical thinkers and problem-solvers who contribute positively to society as productive, responsible citizens.
Mrs. Robin Ballarin
What a September!
Start with Hello
week Sept. 24-28 was an incredible week of kindness, reaching out, and being aware of how little it takes to include others so they know they matter.
HUGE THANK YOUs
to
ALL Faculty and Staff, Students and Community Partners
who participated, wore buttons, supported students in Clubs and Activities to demonstrate and lead our school community in saying HELLO! Take a look at ALL THE KIDS who came out on Monday to kick off the week! Big thank yous to teachers and staff members
Jamie Gwyn, Ardy Riego, Suzanne Sannwald, Dominick Maldonado, Krystal Kammeyer, and all the other adults who rallied their clubs, athletes, cheerleaders, ASB, HOWL Leaders and many more to be leaders on campus this week!
Please remember to check into your students' grades and contact teachers if needed. We also have our tutorial schedule posted and encourage all students to talk with teachers and get help as needed.
I can't think of a better photo embodying our school that THIS one below...
We are One, We are the Pack!
is not only our culture, it is our guiding HOPE that each of us makes a reality in the work we do each day with each other, our students, faculty, staff, and community members. Each year after Unity Days with Sophomores, we invite the school community to join together to make a visual pledge to ourselves and our neighbors. Look carefully...you might see your student!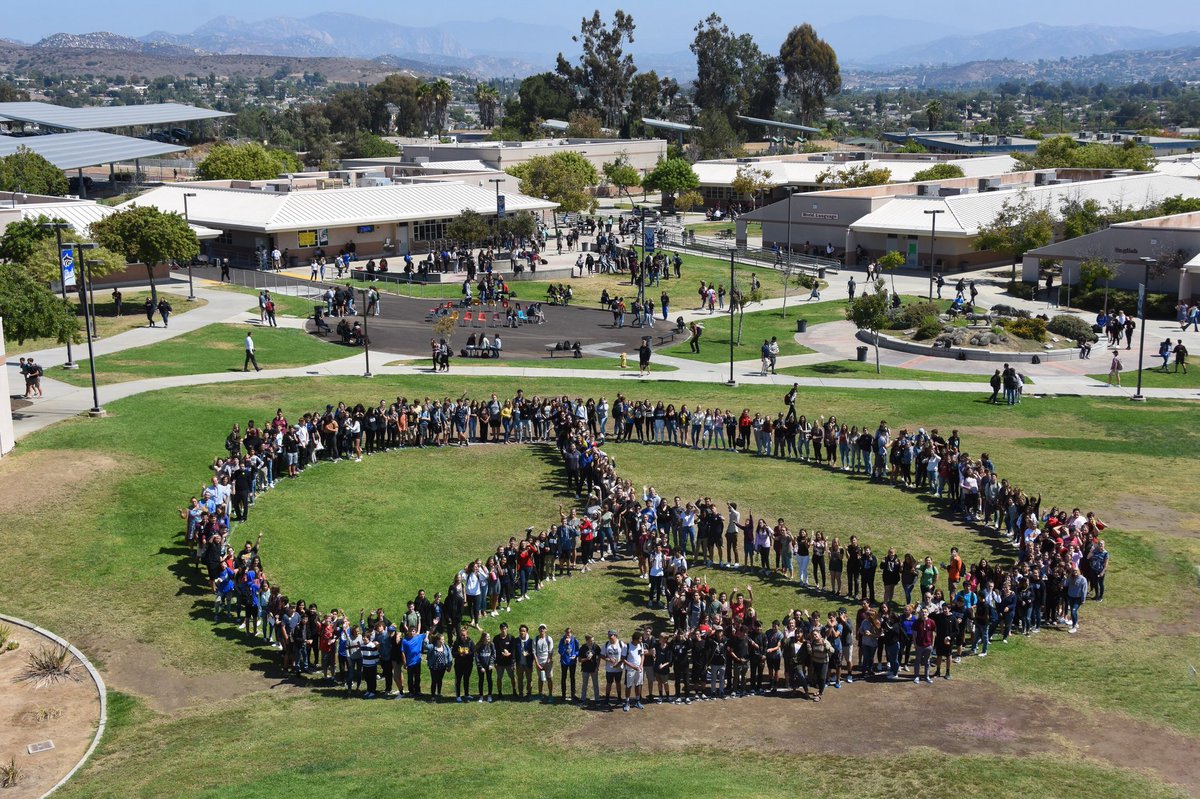 September
overall was a
HUGE month
for social-emotional outreach and activity on campus. HUGE
THANK YOUs to GUIDANCE, San Diego Youth Services and to the MATH DEPARTMENT
for supporting and working with us on our "Check Your Mood" week earlier in the month. We then had our UNITY DAYS and I want to
THANK every Sophomore, faculty and staff
who came out and participated in those incredible two days. We then had our Sandy Hook Promise Week with Start With Hello and again, that took ALL of us to be engaged and involved to support each other and our students. I am so very proud of all of our work in this arena. We also have
MENDING MATTERS on campus each Wednesday
working with students referred by the Assistant Principals for issues of bullying, low self-esteem, attendance and low academics that we see via discipline referrals. All of these efforts are to support our students' achievement and relationships in the classroom, on campus and in daily life. We will continue to support and work in this area as much as we work with academics, athletics and co-curricular programs. We sent Parent and Student portal information regarding all of these events and our efforts in supporting our students.
Parent Portal assistance is available from our staff by calling us at 619-956-0400.
There is also a Campus Portal App for SmartPhones. We can assist you with this as well IF you already have your parent account set up with your login and password.
If you need technical assistance you can also call our District ETS office
Monday - Friday 7:00 AM - 4:00PM at
(619) 956-4357.
Newly added ability to get Infinite Campus on your SmartPhone...make sure you have the right app by following the directions below:
Infinite Campus Portal App "Campus Parent" and "Campus Student"


You must set up your Campus Portal account

BEFORE

you can use the App on your Smartphone.
Search the App Store for the Campus Parent app and download
District Name = Grossmont
Enter your username and password that you have already set up
Boyd Anderson photography
still has school photos from students and parents who purchased Graduation or school pictures from last year. Please contact them at (619) 741-0621 Located in the Grossmont Shopping Center next to Panerra Bread, they want all families to receive and enjoy their photos.



Please check out our ATTENDANCE policies linked in our

STUDENT HANDBOOK

(see page 19)

online at

wolfpack.guhsd.net

under "Students". Please remember to CALL in 956-0434 all day absences, and send a note for partial day absences. We are sorry, but we are not able to deliver to classrooms forgotten items--if a student knows to come to attendance to come pick up their items, they are welcome to do so without MISSING class.
Please remember to UPDATE your home address or phone number
with the West Hills office staff
if you move or you have changes.This is critical if your student has an emergency and we need to reach you. Simply call 956-0400 and tell us you need to update your information. The PRIMARY parent or guardian listed in our parent portal can also do this online via their login.
On the "not so positive note....", we continue to be vigilant regarding vaping and smoking on campus. We have had numerous suspensions for vaping in the last two weeks and
we will continue to intervene and hold students accountable.
We have also
informed parents
about this issue and
included visuals
to let you know how the various devices look and the ways students are accessing funds to buy the vape devices and the "vape juice" to put in it. The Federal Drug Administration is sending all public schools anti-vaping posters to post in restrooms and on campus as well.
Thank you to all who continue to assist us with informing and educating our students about this illegal and unhealthy activity.
Thank you to our 9th Grade ENS teachers for including it in your curriculum as well!
Join the free resource for information if WHHS has urgent information for you regarding an EMERGENCY or for a timely TRAFFIC update. Text
@bf6c9d
to
81010
from your cell phone to join. This is a "one way" messenger only and you control if you want to continue receiving the texts or not.
Post-secondary Information
Counselors visited 12th grade English classes on September 14 to discuss Post-Secondary options and next steps.

The presentation can be found here

The Senior Brag Packet was due online via Google Classroom

by September 28

The Authorization page signed by a parent/guardian (handed out during the presentation) was due to the Counseling Office by September 28
College Application tutorial sessions led by WHHS counselors will be held for trade school, community college and 4 year college/university application help/support
Tuesdays & Wednesdays from

2 - 3pm

in the Career Center L-1

October 2 - November 28

(no tutorial

October 10

due to PSAT minimum day) so

October 11

will be a substitute day
Got Plans? College & Career Fair at Cuyamaca College on October 20 from 9am - 12pm; more info here

Over 80 colleges/universities/trade programs will have representatives available to share information

Attend a variety of informational workshops on numerous topics as well
Financial Aid Information: Seniors
Counselors visited 12th grade Government/Economic classes on September 28 to discuss the Financial Aid application (FAFSA) and process.

All seniors interested in attending any sort of schooling or training next year should fill out the FAFSA

Fill out the FAFSA on

October 1, 2018

or as close after that date as possible

The presentation with more information can be found here
Cash for College Workshop here at West Hills High School November 8 from 4pm - 7pm in room B-1 and B-2

Bring tax information from 2017 and the student's Chromebook for support on the actual application

This session will be drop-in so come when you can and stay for as long as you can during the 3 hour application support window




Please have your student sign up in the counseling office
Counselors will visit 11th grade US History classes in October to discuss post-secondary topics, the SAT/ACT, and work through the career exploration tool Career Cruising

with students

Students have access to Career Cruising at all times - the link and log-in information is accessible via the Class of 2020 Counseling Google Classroom
Counselors will visit 10th grade English classes in November

to

work through the career exploration tool

Career Cruising

and the "Make Money Choices" portion of the

California Career Zone

with students. The students explore these resources and learn a lot regarding budgeting, what it takes to fund an adult life and the accompanying responsibilities.

Students have access to Career Cruising at all times - the link and log-in information is accessible via the Class of 2021 Counseling Google Classroom

Please see our Counseling link on our school web page for more information by grade level, helpful short videos, and links to many resources including SCHOLARSHIP opportunities.
Each year the state and federal governments require families to complete a survey tied to public school funding. This is included with yearly registration or re-registration materials. Currently we are at about a 77% completion rate. We NEED 100% completion rate to ensure funding for our site and district. You may have seen this email in your parent portal...we hope you will complete your survey TODAY if you have not already done so. We will be using valuable personnel hours to call households and to ask any student whose family has NOT completed the survey to do so. We need that last 23% complete! Thank you for helping us with this critical feedback.
Parent/Guardian:
Grossmont Union High School District is committed to providing the best possible education for all students and the best environment in which for them to learn. Spending a few minutes completing this survey is a way you can help bring more funding to your student's school.
To comply with Dept. of Education guidelines this form must be completed annually.
October 8-13:
Homecoming Week! Football game is Friday 10/12 at 7:00 p.m.; Dance is in our Gym 10/13. Some important reminders for the Dance:
No tickets sold at the door;

Everyone must have current school I.D. to attend and enter the event. See the VP office if you do not have a school photo I.D.
Guest passes via VP office closed on 9/28 (last day to turn one in to get approval for Dance).

All non-West Hills students and guests MUST have pre-approval to enter the dance.

NO REFUNDS for students who bought tickets but do not have an I.D. or did not get a guest pass for their guest.
EUROPE TRIP 2020
Has your son or daughter ever expressed interest in visiting
Europe
? Perhaps visiting Anne Frank's House in Amsterdam or strolling the streets of Paris? How about hiking the D-Day Landing Beaches? Mr. Sutton is organizing his 3rd student
trip
to
Europe
for the Summer of 2020. He is accepting applications from any current Sophomore or Junior. If you missed the information meeting on September 24, Mr. Sutton discussed the itinerary, costs, and how to sign up. If you missed the meeting but still want information, please see Mr. Sutton in SS-1 at any non-class time. He can also be reached at dsutton@guhsd.net
On Wednesday, October 10, 2018 West Hills will have a minimum day for all students. The purpose of this is to offer the PSAT to all 10th and 11th grade students on campus. The PSAT/NMSQT is the Preliminary SAT/National Merit Scholarship Qualifying Test. The PSAT is a great primer for the SAT, and even the ACT, but it's more than just a trial run. PSAT scores are used to identify National Merit Scholars and award merit scholarships. We are very proud to have one commendation for this high honor, Senior Christian James.
Approximately 1.5 million high school students take the PSAT each year. Of those, 50,000 (3.3%) are
Commended Scholars
, and 16,000 (1.1%) are chosen as
National Merit Scholar
Semifinalists. We are very proud of Christian his accomplishment!
On Monday, Oct. 1, all 10th and 11th grade students will begin the process to prepare for taking the PSAT. In their English class they will be filling in some demographic information on their answer document. They will also receive a PSAT Student Guide and detailed instructions on test day specifics
Should you have any concerns regarding your student and the PSAT please contact Mr. Reiderer in the VPs office.
WEST HILLS HIGH SCHOOL CELEBRATES NATIONAL TEACH GERMAN DAY
Students in German classes will celebrate National TEACH GERMAN Day on
Thursday, October 4
with their teacher,
Herr Holzhausen
.
The first annual National TEACH GERMAN Day is a nationwide celebration of German learners in classrooms and communities.
National TEACH GERMAN Day aims to promote the message that teaching German is a viable and highly rewarding career choice and to celebrate learners.
National TEACH GERMAN Day is a part of the National German Week and the TEACH GERMAN campaign, an initiative of the American Association of Teachers of German, made possible through the generous sponsorship of the German government's Netzwerk Deutsch program.
Our West Hills High School ASB went to
Camp LEAD
during September. Camp LEAD is a three-day
and two
night leadership and human relations development program for GUHSD students. An engaging
and
interactive learning environment allows participants to gain heightened interpersonal and personal
awareness skills that are essential to improving relations with others. We learned about ethnicity,
gender, and kindness for all. Leadership and communication skills were practiced very well through our
interactions with peers,
staff, and
teachers. Spreading kindness and respect throughout school is one of
our top priorities. West Hills has three more Camp opportunities for students:
Please see Mrs. Jamie Gwyn in our ENS Department for more information.
Seniors: If you are a member of PTSA, keep an eye on the Counseling Scholarship page. PTSA sponsors scholarships each year for deserving Seniors but you have to be a PTSA member to apply AND you have to complete the application and turn it in. PTSA membership forms are in the main Admin building in reception.
Did you know that if you shop at
smile.amazon.com
and choose "whhs PTSA", Amazon will donate a portion of your purchase (at no cost to yourself) to WHHS? smile.amazon.com is the same exact pricing and website as the traditional Amazon url but it allows you to select a non-profit organization for Amazon to support.
Please "share" with family and friends and help WHHS!
Announcing the West HIlls PTSA Rummage Sale
Saturday October 27th
in the front parking lots; 7am to 10am.
Please start clearing your clutter and set stuff aside! Clothes, shoes, books, tools, household items, small (working) appliances... toys, sporting goods, SMALL furniture, holiday decor.. most anything you can think of--- that is clean and working and will sell!
See posters on the Admin building for information about DROP OFF DATES.
Check us out on Facebook at Wolfpack PTSA
Thank you!
PARENT and COMMUNITY SUPPORT:
A huge THANK YOU to all parents, grandparents, guardians, and wonderful West Hills Wolf Pack families for all of your support through the years. We have two wonderful organizations that work TIRELESSLY on behalf of our school and our current students:
PTSA
and the
West Hills High School Foundation
.
PTSA focuses on the current school year and the current students. The Foundation reaches out to Alumni and current parents to support school wide needs and activities. We hope you will
JOIN them
and continue the great tradition of exemplary parent and community involvement in our school!
Go Wolf Pack!

The "Wolf Call" is a monthly news blog for students, parents and community partners.