It is great to be six weeks into the new semester. We have quite a packed semester -- PACK Day on Friday, March 2 (
P
arents
A
t
C
lass with
K
ids Day), our 30th Year Gala and Hall of Fame event on March 3, our WASC Accreditation visit March 18-21, Seniors anxiously awaiting college acceptance letters, our wonderful Military partners providing information at student lunch regarding careers in the military, winter sports wrapping up with spring sports starting, wonderful theater performances and performing arts happening as well as Advanced Placement testing and state testing coming up in late April and early May. WHEW! We are busy! If we can assist you in any way on any of these topics or more, please let us know.
We are very excited to debut for parents and students our promotional video "We Are West Hills" written, directed, produced, filmed and created by West Hills Senior Logan Goverman. With great assists from many West Hills students, faculty, staff and Admin, Logan created a video to make us all proud! Check it out here and share as you like! This is an outstanding example of our Student Learning Outcomes demonstrated in one amazing project. Go Wolf Pack!
Day
Friday March 2, 2018
Please join your student(s) in our Minimum Day schedule as you attend classes with them. Experience a bit of what their day is like! Linked on our webpage will be a letter for your employer if you like. We hope to see all who are able to attend for a terrific

P

arents

A

t

C

lass with

K

ids Day!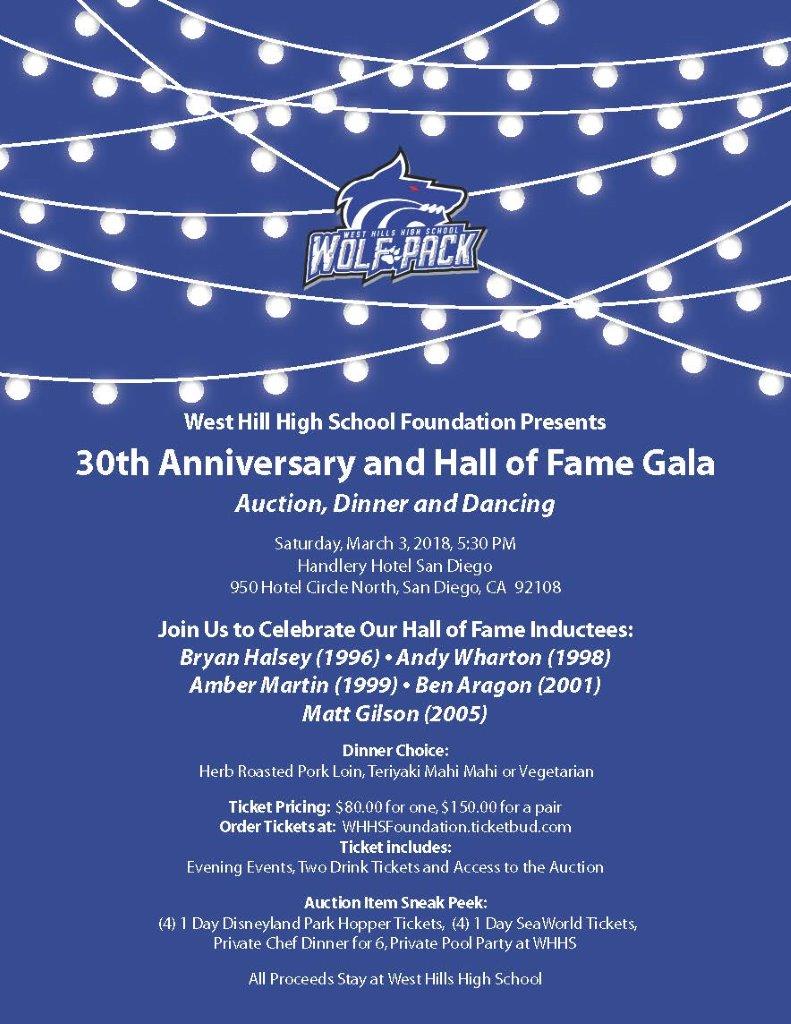 Parents and community members needed for group interview with our Visiting Committee
We have been conducting our self-study and preparing for our accreditation visit the last two years and now the Visiting Team is scheduled and ready to visit. This is where we need parents and involved WHHS community members to volunteer to talk with our Visiting Committee in a confidential meeting on
Tuesday, March 20, 2018, from 9:00 -10:30 a.m. in room B-1.
The goal of the meeting is to confirm all the things we have said about our school and that we are focusing on the future for our current and future students.
If you feel you could give of your time and meet with this committee on our behalf, please call the Principal's secretary, Mrs. Ginny Bell at 619-956-0412.
It is important to please RSVP so we know how many refreshments and the size of room to set aside for this important feedback. We thank you in advance for volunteering your time!
We are very proud to publish our Final WASC Self Study report. Pages 182-184 have our three overall school goals and our Action Plan linked for your information and review.
Course "Wish List" Process for current 9th, 10th and 11th graders...each year in February and March our dedicated Counselors go into classrooms to explain academic planning for the next school year. Presentations are made in classrooms and students come home with "Wish Lists" to be completed by both the student and the parent. Please look for these "Wish Lists" for current 11th graders the week of 2/11, for current 10th graders the week of 2/24 and for current 9th graders 3/17. Incoming 9th graders are getting their "Wish Lists" from our Counselors as they go out to our middle schools and present this week and next. Please read, complete, and sign the forms, following the directions given to students on how and when to return them.
News from around campus....
Freshman Showcase February 7, 2018:
FRESHMAN SHOWCASE had a great turn out!
The entire Pit was full of people. Parents and students remarked consistently how OPEN, FRIENDLY, and WELCOMING we are! They really enjoyed getting in to CLASSROOMS and talking with teachers, coaches, STUDENTS and Admin about West Hills. If you have family, friends or neighbors looking at schools for their students for next year, please let them know WHHS WELCOMES them! School Choice is open through March 3. Check out
Registration information here
(Please remember
all
students must be registered or re-registered for the next school year....)
Below are just a few photos shared with us....
(L) Class of 2022 interested in AVID and below, observing current AVID students in tutorial sessions.
Orchestra students encouraging Class of 2022 to join them!
Theater students representing their joy of acting and talking with parents and students about our wonderful theater options.
Choir "singing" their praises for options at West Hills.
Below: Guitar students playing beautifully and letting Class of 2022 know WH can teach them everything they need to know for guitar--even how to build one!
Mr. Ardy Riego
and his
CTE Sports Medicine
students had a great time demonstrating their understanding of human anatomy using colored clay. Mr. Riego attended a conference where this was just one of the many ideas for powerful teaching and learning for all students.
Camp Lead.....Thank you to Mrs. Savannah Addy for sharing this photo of our West Hills most recent campers! We continue to have students and staff attend this amazing leadership camp! Students are recommended by teachers or volunteer for this three-day opportunity to go to Pine Valley with other students and staff from the GUHSD to learn communication skills and network with others. Offered four times a year, any student interested in attending Camp should let us know in the VP office.
Congratulations to the terrific Guitar students, pictured with Mr. Lorentz, for
earning a "Superior" / Command Performance at the Vista Murrieta Solo Ensemble Festival! With a record number of competitors--over 140 this year--being singled out by Judge Warren Torns was an honor and a testament to their hard work and the terrific teaching they have experienced. Additionally, only 5 schools were singled out for the Command Performance...go Wolf Pack!
Local Teens Work to End Sex Trafficking....
KUDOS to West Hills students as they work to end exploitation of their peers...check out this
NBC Channel 7 article
and the good work these young leaders are doing in our community! "
Many of the teen leaders organized charity drives at their schools to collect donations for victims of human trafficking. But a handful decided one month was not enough time to make a significant impact.
Sixteen-year-old twin brothers
Max and Ilan Matkovski
founded the
Homeless and Hunger Awareness Club at West Hills High School."
Read the complete article for more information...
Feel free to sign up...bring your friends...this is a great way to celebrate the start of Spring Break! Go Wolf Pack!! Forward on to students and our community in any way you like! Bring the family!
HEY Pack
Let's keep the Great Kindness Challenge going and participate in something as a school! Clubs, Teams, Departments, Families...all are welcome!
​​
WHHS Wolf Pack
And do something fun as a group!
DONATION DROP OFF DATES: February 15 and 16: 6:30am - 8:30am in the Flag Circle & Staff Lot
(additional on-campus locations and afternoon drop off times are TBA)
Did you know that if you shop at
smile.amazon.com
and choose "whhs PTSA", Amazon will donate a portion of your purchase (at no cost to yourself) to WHHS? smile.amazon.com is the same exact pricing and website as the traditional Amazon url but it allows you to select a non-profit organization for Amazon to support. Please "share" with family and friends and help WHHS!
Sponsored entirely by the PTSA, the Class of 2018 GRAD BASH at Universal Studios is happening!
Please check out the information at the PTSA website for a GREAT night of fun for our Class of 2018 after graduation day!
Join the free resource for information if WHHS has urgent information for you regarding an EMERGENCY or for a timely TRAFFIC update. Text
@bf6c9d
to
81010
from your cell phone to join. This is a "one way" messenger only and you control if you want to continue receiving the texts or not.
Please check out our ATTENDANCE policies linked in our
STUDENT HANDBOOK
online at
wolfpack.guhsd.net
under "Students". Please remember to CALL in
956-0434
all day absences, and
send a note for partial day absences
. We are sorry, but we are not able to deliver to classrooms forgotten items--if a student knows to come to attendance to come pick up their items, they are welcome to do so without MISSING class.
We send out important information via our Parent and Student Portal.
Please check your email, mobile phone text or home phone voicemail for this information or contact the school if you know your student has missed a full day of school and can attend Saturday School / Scholars to have additional time to make up the attendance time and the school work.
PARENT and COMMUNITY SUPPORT:
A huge THANK YOU to all parents, grandparents, guardians, and wonderful West Hills Wolf Pack families for all of your support through the years. We have two wonderful organizations that work TIRELESSLY on behalf of our school and our current students:
PTSA
and the
West Hills High School Foundation
.
PTSA focuses on the current school year and the current students. The Foundation reaches out to Alumni and current parents to support school wide needs and activities. We hope you will
JOIN them
and continue the great tradition of exemplary parent and community involvement in our school!
As always, check out our
website
for lots of information. Go Wolf Pack!