Welcome to our second semester. We are very excited to CONGRATULATE all of our
HONOR ROLL
(3.5 GPA and higher) students and our
PERFECT ATTENDANCE
(not missing any school for any reason) students! Your hard work and dedication results in these kudos--THANK YOU for your dedication and hard work! Thank you, too, to all parents, grandparents, aunts, uncles, siblings and community members who support every student on our campus. We also want to CONGRATULATE ALL of our
ALPHA PLUS students!
This unique award was conceived by Mr. David Hunter, first ASB teacher and Assistant Principal of West Hills. He visioned an award in which each teacher would choose one student from each class period to be their "Alpha Plus". Students who had stood out as the one who improved the most, or demonstrated leadership and dedication to the subject matter the most, or who just impressed the teacher with their character in exemplifying the "West Hills Way" the most that semester. Mr. Hunter wanted West Hills to
celebrate
the development of leadership "among the many" and so we celebrate each and every student on this list and the many who have received this prestigious pin and award throughout their high school career.
Speaking of Mr. Hunter, he had a very long and distinguished career in the Grossmont Union High School District, first at Santana High School and then at West Hills. A devoted and serious English teacher, he was passionate and dedicated to developing all of the traditions and student experiences at West Hills, particularly our proud athletics and student sports teams. Sadly, early in 2017, Mr. Hunter passed away. At that time, many in the Wolf Pack asked about a lasting tribute for this "Renaissance Man". A passionate and exemplary high school and college basketball player himself, and our first Assistant Principal in charge of Athletics for many years, we began the process of petitioning the GUHSD school board to allow us to name our Gym in his honor.
We invite any community member who would like to show their support of our request to attend the Board meeting on Monday, January 22, 2018 at 6:45 p.m. at the East County Regional Educational Complex located at
924 E. Main in El Cajon, CA, 92021.
We look forward to an exciting second semester of student growth, experiences and excitement! We hope 2018 holds only positive, wonderful experiences for all of us!
The West Hills boys' golf team is selling tickets for this year's
Farmers Insurance Open at Torrey Pines (
January 25th-28th
)
The
$35
ticket is good for any day of the tournament
(tickets cost $50 at the tournament site - a $15 savings!).
Please email or call Mr. Todd Peterson, Boys Golf Co-Coach at
tpeterson@guhsd.net
or
619-956-0521 know ASAP
if
you would like tickets
to
see the finest
golfers in the world in
La Jolla. Thank you to Farmers Insurance for allowing discount tickets to be
sold by high school golf teams to support youth golf!
Freshman Showcase....Calling all students interested in the Wolf Pack!
Wednesday, February 7, 5:30 p.m.
We are open to all students...invite your friends, neighbors and colleagues to come visit us! All grades are open for the 2018-19 school year.
Check out the informational flier here.
Parents with an incoming 9th grader next year
Please attend the

Freshman Showcase

on

February 7 at 5:30 pm

and visit the counselors in front of the library to sign up for a conferencing appointment with your student's counselor.
Grossmont/Cuyamaca College Applications available now!

Complete the entire

process

prior to the end of May to earn priority registration
If you need help completing your FAFSA or have more questions regarding the financial aid process, there is a free "Cash for College" workshop on

January 27 from 9am - 12pm

at the IDEA Center located at 1600 Cuyamaca St., El Cajon, 92020.
For those students who submitted applications to 4 year universities, make sure to check your email and/or access the school's portal regularly to make sure you stay on top of deadlines (sending SAT/ACT scores, official transcripts, etc.).
Counselors will visit 11th grade English classes on

February 9

to discuss course selections for next year as well as post-secondary requirements. Students will bring home their "Wish Lists" that need to be signed by a parent/guardian and returned the following week when the class will visit the counseling office for individual counselor/student conversations.
11th grade students planning to attend a 4 year university should take the
SAT and/or ACT this school year
Counselors will visit 10th grade World History classes on

February 23

to discuss course selections for next year as well as post-secondary requirements. Students will bring home their "Wish Lists" that need to be signed by a parent/guardian and returned the following week when the class will visit the counseling office for individual counselor/student conversations.
Counselors will visit 9th grade Math classes on

March 16

to discuss course selections for next year as well as post-secondary requirements. Students will bring home their "Wish Lists" that need to be signed by a parent/guardian and returned the following week when the class will visit the counseling office for individual counselor/student conversations.
GREAT KINDNESS CHALLENGE: Week of January 22-26, 2018:

Part of our "We are One, We are the Pack" positive school activities is coming up. We will be giving each Period 3 teacher one handout for each student for Monday, January 22 to use during that week. Our terrific ASB will be leading on campus activities and we will have notices in the bulletin and on our marquee about KINDNESS. We hope EVERYONE in our community and on our campus will participate and support this effort through kind words, deeds and actions. Lucky for us, we typically do this ALL the time and it is just bringing more awareness to these ideas and attitudes that can help our entire school community. Parents and Families have this handout if YOU would like to get behind this week of unity and KINDNESS!
Parents and community members needed for group interview with our Visiting Committee
We have been conducting our self-study and preparing for our accreditation visit the last two years and now the Visiting Team is scheduled and ready to visit. This is where we need parents and involved WHHS community members to volunteer to talk with our Visiting Committee in a confidential meeting on Tuesday, March 20, 2018, from 9:00 -10:30 a.m. in room B-1. The goal of the meeting is to confirm all the things we have said about our school and that we are focusing on the future for our current and future students.

If you feel you could give of your time and meet with this committee on our behalf, please call the Principal's secretary, Mrs. Ginny Bell at 619-956-0412.

It is important to please RSVP so we know how many refreshments and the size of room to set aside for this important feedback. We thank you in advance for volunteering your time!
Knowledge Constellation Nonfiction Book Project Gallery

- During the Fall semester, Liddell's AP Lang students independently read a nonfiction book of their choice. As they read, they conducted research related to their book. And, in the end, they created a way to share their findings as a "knowledge constellation."

Click here to check out a gallery of their projects

.



West Hills 30th Year and Hall of Fame Dinner Gala
We invite you to join us for this fund raiser Gala Dance and Hall of Fame Dinner with Silent Auction
Saturday, March 3, 2018, 5:30-10:30 p.m.
Handlery Hotel,
Hotel Circle North
Look here for more information!
Purchase tickets HERE
The Handlery Hotel is kindly giving a discount room rate...mention West Hills High School when booking and save!
News from the Classroom..
..
West Hills High will host the
first
California Music Educator's Association (CMEA)
San Diego County Honor Orchestra
on Saturday, January 20, 2018 at 7:00 p.m. in the Bob Guess Theater for the Performing Arts. Students from all over the county auditioned for this prestigious event and Michael Gerdes, Director for Orchestral Studies at San Diego State University with be leading the group. West Hills is very proud to announce that five of our students were selected to perform:
Joseph Mammon, Sam Blackston, James Leavitt, Emily Tripp and our very own Olivia Lorentz was selected as the prestigious Concertmaster or "First Chair", the second most important position in the orchestra after the conductor. We love our Performing Arts and encourage all to attend a night of music magic!
And, talking about Orchestra, look at our very own Mr. Steve Lorentz...following up on his 2015 CMEA "Orchestra Teacher of the Year" for high school....
So proud of Mr. Steve Lorentz, Southern California Music Educators' Guitar "Teacher of the Year"! West Hills is so lucky to have you teach our students!
#gopack

@WestHillsASB
@18Whhs
@whhs2020
@WHHS2019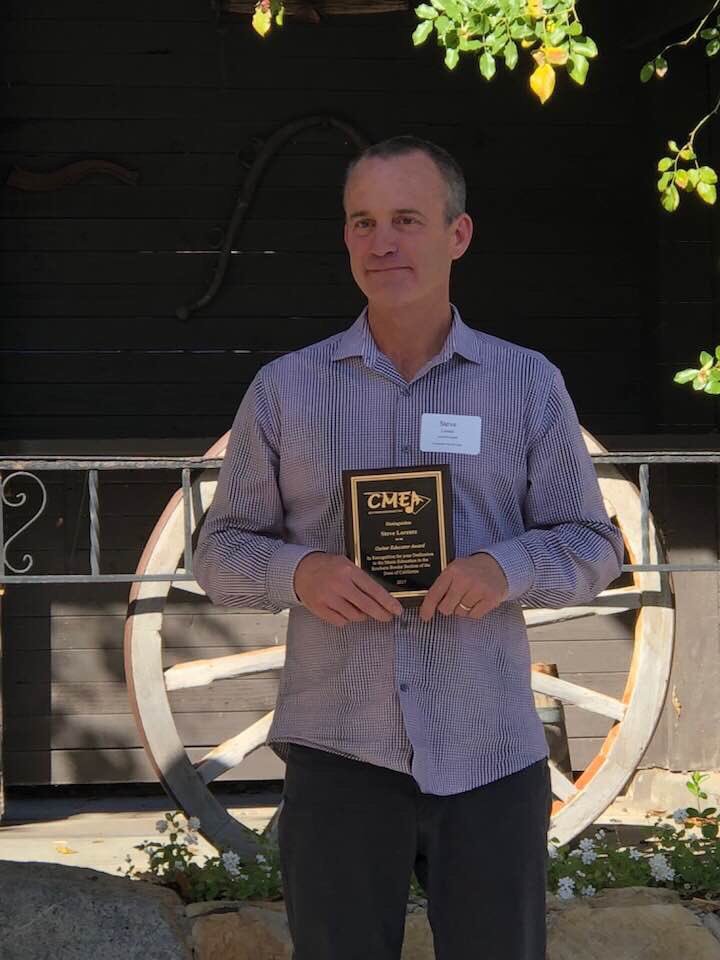 AVID Awards for Seniors:
West Hills is very proud to announce our two Senior selections for our San Diego and National AVID Scholarships are
Beatriz Yumul,
our "AVID Senior Standout" and
Markesha Big, our STEM Nominee. All seniors in AVID are eligible to apply for these awards and the site AVID Committee, made up of teachers, administration, and Counselors, read and select from those seniors who applied. We are proud of ALL of our AVID students, and particularly proud of Beatriz and Markesha for going on to the next selection round with AVID Central. Congratulations ladies! (They are pictured with Mrs. Ballarin, Principal, and Mrs. Jodi Kohler, AVID Coordinator and Junior-Senior AVID Teacher).
Science students getting into the spirit....
​Mrs. Addy and some of her Chemistry students celebrating the winter assembly week with Camp Counselor (dress like your favorite staff member) day!
"Chemis Tree"--students brought luck to their Finals in December with this innovative tree!
Winter Formal was a great success Saturday night, Jan. 13, 2018! Students really seemed to enjoy themselves. If they weren't on the dance floor they were playing video games with the "History of Video Games" or with the science exhibits. The Fleet center staff complimented us on how well behaved our students were. Congratulations Class of 2019 for a terrific dance!
English Learners and their Parents:
On
Tuesday, January 23

, from

6-8pm

,
the GUHSD will be hosting a Parent Forum at the District Office, 1100 Murray Drive, El Cajon, CA 92020. On this evening we will be focusing on educating parents on high school graduation requirements, as well as UC A-G requirements. Parents will have the opportunity to see the status of their student(s) in regards to reclassification, meeting graduation requirements, and achieving UC A-G requirements.
Join the free resource for information if WHHS has urgent information for you regarding an EMERGENCY or for a timely TRAFFIC update. Text
@bf6c9d
to
81010
from your cell phone to join. This is a "one way" messenger only and you control if you want to continue receiving the texts or not.
Please check out our ATTENDANCE policies linked in our
STUDENT HANDBOOK
online at
wolfpack.guhsd.net
under "Students". Please remember to CALL in
956-0434
all day absences, and send a note for partial day absences. We are sorry, but we are not able to deliver to classrooms forgotten items--if a student knows to come to attendance to come pick up their items, they are welcome to do so without MISSING class. SATURDAY SCHOLARS (Previously Saturday School) will be starting for students who need extra tutoring or attendance make up time. Notices came out Friday regarding this important opportunity for students. Please check your email, mobile phone text or home phone voicemail for this information or contact the school if you know your student has missed a full day of school and can attend Saturday School / Scholars to have additional time to make up the attendance time and the school work.
Did you know that if you shop at
smile.amazon.com
and choose "whhs PTSA", Amazon will donate a portion of your purchase (at no cost to yourself) to WHHS? smile.amazon.com is the same exact pricing and website as the traditional Amazon url but it allows you to select a non-profit organization for Amazon to support. Please "share" with family and friends and help WHHS!
Sponsored entirely by the PTSA, the Class of 2018 GRAD BASH at Universal Studios is happening!
Please check out the information at the PTSA website for a GREAT night of fun for our Class of 2018 after graduation day!
PARENT and COMMUNITY SUPPORT:
A huge THANK YOU to all parents, grandparents, guardians, and wonderful West Hills Wolf Pack families for all of your support through the years. We have two wonderful organizations that work TIRELESSLY on behalf of our school and our current students:
PTSA
and the
West Hills High School Foundation
.
PTSA focuses on the current school year and the current students. The Foundation reaches out to Alumni and current parents to support school wide needs and activities. We hope you will
JOIN them
and continue the great tradition of exemplary parent and community involvement in our school!