With the first semester coming to a close, I would like to ask parents and guardians to continue to encourage their
students to remain focused and finish strong in their classes. Final exams are right around the corner, but it is still not too late to take advantage of the time we have left. Students can still participate in tutoring, and talk with teachers to get that extra bit of help down the home stretch.
Final exam days are minimum days and our Finals Week schedule is listed below:
Monday, December 18: Late Start day
Tuesday, December 19
Finals Period 1 or 7 8:14 - 10:11
Period 4 10:33 - 12:30

Wednesday, December 20

Finals Period 3 8:14 - 10:11
Break 10:11 - 10:27
Period 5 10:33 - 12:30

Thursday, December 21 – last day of fall semester
Finals Period 2 8:14 - 10:11
Break 10:11 - 10:27
Period 6 10:33 - 12:30
Friday, December 22 Teacher and Staff Work Day – No students
I would like to thank our students, parents, guardians, staff and teachers for a great first half of the school year. Besides all of the impressive work happening inside the classroom, we saw a lot of great achievements by our fall and winter athletes and our performing arts students. I cannot wait to see what the second half of the year has in store for us!
Go Wolf Pack! We are Respectful, Responsible and Honorable
Mrs. Robin Ballarin
Attention military families and students: Are you aware of the FREE
tutoring services online
for you via your tutor.com website? In addition to our own tutoring services, these tutoring services are available 24 / 7 for you. Check out the website and see how easy it is to access more support for your academics.
Our semester ends December 22, 2017.
Please look at your students' grades and talk with them about their progress--both successes and challenges. Please know that our goal is your students' success! Please contact teachers with individual questions about the grades you are viewing as well as ways for your student to improve if they are earning below a "C" in any course.
There are two weeks left in this semester until final exams--
Final exams are December 19-21, 2017. Please avoid pulling your student from this week for travel.
This is VERY difficult for students to return and "make up" final exams--they typically do not do well and their permanent, final grade on their transcript is often affected negatively. Our
complete bell schedule
,
including Final exam schedule, is available
on our website.
All students must earn 220 credits to graduate and colleges and universities accept "C" grades and higher. Military careers ask for many of the same requirements so this is a CRITICAL AREA for support and encouragement for our students. Any grade of an "F" must be made up to earn credits towards graduation. Teacher contact information as well as Guidance information and our tutorial schedule may be found on our website at
wolfpack.guhsd.net.
Our
Academic League
is going up
against SANTANA for the "Mayor's Cup" this
Wednesday, December 6 at Santana in their library starting at 3:30.
CHEER on these students as they compete against Santana this week! (Not all participants are pictured....)
VARSITY is tied for First Place with the Sultans so GO WOLF PACK!!
Kudos to Mrs. Liddell and Ms. Biggerstaff for leading our Academic League participants! Go Wolf Pack Academics!
SENIORS: The season for most 4 year college application deadlines is coming to a close, but we strongly encourage students to work on their community college applications now to take advantage of priority registration opportunities.

College application tutorials are available

Tuesdays and Wednesdays from

2 - 3 pm

in the Career Center room L-1 through

December 13




JUNIORS should be looking at the Counseling tab on our school website . Now is the time to be applying to scholarships and grants for next year; thinking about volunteering time and looking into college and career interests.
Counselors visited 10th grade English classes on November 16th and 17th to work through the career exploration tool Career Cruising and the "Make Money Choices" portion of California Career Zone with students. The students enjoyed the explorations and learned a lot regarding budgeting and what it takes to fund an adult life and the accompanying responsibilities.

Students have access to Career Cruising at all times - the link and log-in information is accessible via the Class of 2020 Counseling Google Classroom. Find it with your student by logging into their guhsd.net email, then going to "Google Classroom" (here is a handy help tool for Google Classroom)

Counselors will visit 9th grade ENS classes on

December 7th and 8th

to discuss Internet Safety and to work through the career exploration tool Career Cruising with students

The presentation will be updated to the Counseling website once available

Students have access to Career Cruising at all times - the link and log-in information will be accessible via the Class of 2021 Counseling Google Classroom once introduced to students during the presentation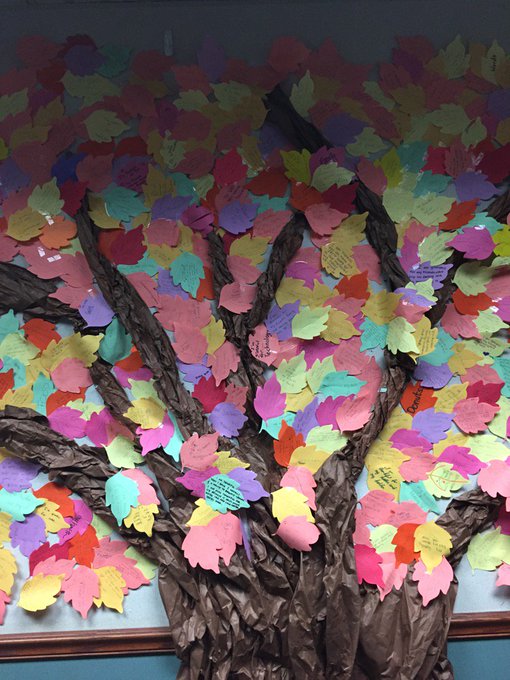 GRATITUDE is a part of our West Hills Way and being Respectful, Responsible and Honorable...West Hills students, faculty and staff wrote "leaves of thanks" for our Gratitude Tree that "grew" throughout the month of November. We strive to model and demonstrate these thanks each day and to follow the
West Hills Way.
Founded in 1987, the first incoming class of freshmen leaders wrote these simple eight principles. Our Student Senate last spring reviewed and confirmed these principles and as we move into our self-evaluation and reflection year for our school's accreditation, we wanted to publish them once again.
Academics First – It's "cool" to study and work hard at West Hills

Treating fellow students, teachers, staff, and visitors well – the way you want to be treated.

No Cliques – "We are one, We are the Pack"

No put downs

Saying "Hi" to other members of the pack, saying "No" to drugs and alcohol.

Using good language – use of profane or vulgar language only shows a lack of vocabulary.

Dressing in a proper manner – clean and in good taste.

Playing hard, but fair and sportsmanlike.
Join the free resource for information if WHHS has urgent information for you regarding an EMERGENCY or for a timely TRAFFIC update. Text
@bf6c9d
to
81010
from your cell phone to join. This is a "one way" messenger only and you control if you want to continue receiving the texts or not.
The West Hills Performing Arts Department has been busy with concerts, competitions, and our terrific run of the musical "The 28th Annual Putnam Spelling Bee"! Our programs are OUTSTANDING and doing SO MUCH...it is often hard to keep up with them

.
Beginning and Intermediate Guitar Concert: Thursday, Dec. 7, 7:00 p.m.
Our Guitar program is one of the absolute best in the county, and it shows in the pieces the students play come together beautifully
. The guitar ensemble performance features pieces from the 1800s as well as
Superstition
and
Dueling Banjos!
Intermediate Guitar will perform
Pirates Of The Caribbean Medley
and the beginning classes will produce melodies from around the world!
Advanced Guitar and String Orchestra: Saturday, Dec. 09, 7:00 p.m.
The West Hills High School String Orchestra is a wonderfully close-knit family! The year is off to a great start as this talented group of experienced players and beginners alike work together to create beautiful sound. The Orchestra will be playing Medieval inspired selections along with classical and holiday music. Come see their Winter Concert on
Saturday, December 9th at 7 pm
for a night of entertaining orchestral pieces and captivating musical performance!
Winter Choral Concert: Thursday, Dec. 14, 7:00 p.m.
Winter Band Concert: Friday, Dec. 15, 7:00 p.m.
Bob Guess Theater for the Performing Arts
8756 Mast Blvd. Santee, Ca. 92071


$10.00 adults; & students w/out ASB sticker, $8 .00 students w/ASB
Children 5 and under free
CONGRATULATIONS
to the
and to the wonderful PARENTS and GUARDIANS who support them for completing another wonderful FALL SEASON! They capped off their season with their Third place finish (out of 38 teams) in the California State Championship.
WEST HILLS Theater Students had a great run with this entertaining and very funny production! Thank you actors and crew members for your work!
For future planning, additional performances are below:
| | |
| --- | --- |
| | Winter Beginning / Intermediate Guitar Concert |
| | Winter Advanced Guitar / String Orchestra Concert |
| | |
| | |
| | |
| | "A Midsummer Night's Dream" |
| | |
| | |
| | Spring Beginning / Intermediate Guitar Concert |
| | Spring Advanced Guitar / String Orchestra Concert |
| | |
| | |
| | Theater Production One Acts |
Please check out our ATTENDANCE policies linked in our
STUDENT HANDBOOK
online at
wolfpack.guhsd.net
under "Students". Please remember to
CALL in
956-0434
all day absences, and
send a note for partial day absences
. We are sorry, but we are not able to deliver to classrooms forgotten items--if a student knows to come to attendance to come pick up their items, they are welcome to do so without MISSING class. SATURDAY SCHOLARS (Previously Saturday School) will be starting for students who need extra tutoring or attendance make up time. Notices came out Friday regarding this important opportunity for students.
Please check your email, mobile phone text or home phone voicemail for this information or contact the school if you know your student has missed a full day of school and can attend Saturday School / Scholars to have additional time to make up the attendance time and the school work.
Expanded Library Hours

: The library is now open after school thanks to help from campus supervisor "Coach Q" Quentin London. Students may use the space to study until

3:40 pm.

Keep in mind, library hours vary with alternative bell schedules and may occasionally close without notice based on staff availability. For more information about library hours and staffing throughout the day, visit: westhillslib.weebly.com/hours.html
Research Databases

: When talking to students about different types on online information, the

iceberg model

is helpful for distinguishing between the surface web (what people are used to finding when doing a basic Google search) and the deep and dark levels of the web (content that is "locked" for general access).




Part of the deep web that our students regularly use is the suite of "EBSCO" subscription-based research databases. All GUHSD students have free access to this resource that hosts content such as peer-reviewed academic journal articles, the type of information that they will be expected to use in college. Students access EBSCO automatically at school, but a

login is required when off-campus

(this link only works when logged into an @guhsd.net account). Find out even more about

GUHSD Online Databases

. Have other questions? Contact our teacher librarian

Ms. Sannwald

.
Our Fall Sports wrap up includes:
Football went 6-5, 2-3 in league. Three of the teams we lost to are playing in CIF finals this weekend. This was a competitive league this year! We'll be back at it next Spring. Any and all student athletes are welcome to come out for this great sport!
Volleyball are the Grossmont Hills co champions. They were 16-10, 8-2 in league. They lost in the first round of CIF playoffs. Outstanding efforts ladies!
Cross Country
Varsity Boys
0-4 Dual meets
6th at League Finals
5th in CIF Finals (Div. III) out of 19 teams
Varsity Girls
1-3 Dual meets
4th at League Finals
9th in CIF Finals (Div.3) out of 16 teams
Girls Tennis 9-5-1, 9-1-1 in league. Grossmont Valley League champions. Lost to Valhalla in first round of playoffs.
Girls Golf had a great season with several golfers advancing through individual CIF rounds. More details were not available at this publication date.
Boys Water Polo also played well and additional details were not available at this publication date.
WINTER sports began Saturday, November 14
with the first CIF approved day for coach / athlete contact and try outs. Individual sports create their own schedules so please check out our
website
for up to date information.