The mission of West Hills High School is to graduate critical thinkers and problem-solvers who contribute positively to society as productive, responsible citizens.
We are about one third of the way through our semester and are looking forward to continuing successes with our students! Seniors are looking at their college application process for November and we prepared our sophomores and juniors for important academic testing with our PSAT exams on our minimum day Oct.l1. Please continue reading for important information for Seniors for college applications and Federal Financial Aid application (FAFSA) information. We are looking forward to continuing this semester and fostering student learning and growth! I hope you continue to read through this edition for more timely information. Go Wolf Pack!
Congratulations to our very own
KATHY WORLEY
named a finalist for California "Teacher o the Year"! Ms. Worley is one of only 7 teachers out of 330,000 in California to reach this status. She teaches Industrial Technology including: Drafting, Beginning Manufacturing, Advanced Manufacturing, Guitar Construction and Woodshop. We are very proud and thrilled to have Kathy's dedication, passion and inspiration to students recognized, representing not only the best in teaching at West Hills, but also in the GUHSD and in our profession!
Dr. Tim Glover, Supt. GUHSD, Mr. Matt Norris, Mr. Josh Reiderer, Ms. Kathy Worley, Mrs. April Baker and Mr. Ardy Riego celebrate with Kathy upon her announcement as one of five "Teachers of the Year" for San Diego County. Ms. Worley was named Oct. 12 as a finalist for California "Teacher of the Year".
Another wonderful West Hills Homecoming is in the making with our Dance tonight! Tickets are sold at the door for $25.00. Students must bring a photo I.D. and dress is semi-formal or formal. Thank you ASB and students for the exciting Homecoming Assembly on Friday! Thank you for continuing this great tradition! We are happy to announce that
Cam Berry
and
Brittany Woods
are our Homecoming 2017 King and Queen!
Cam Berry and Brittany Woods crowned King and Queen after the Football game followed by Fireworks!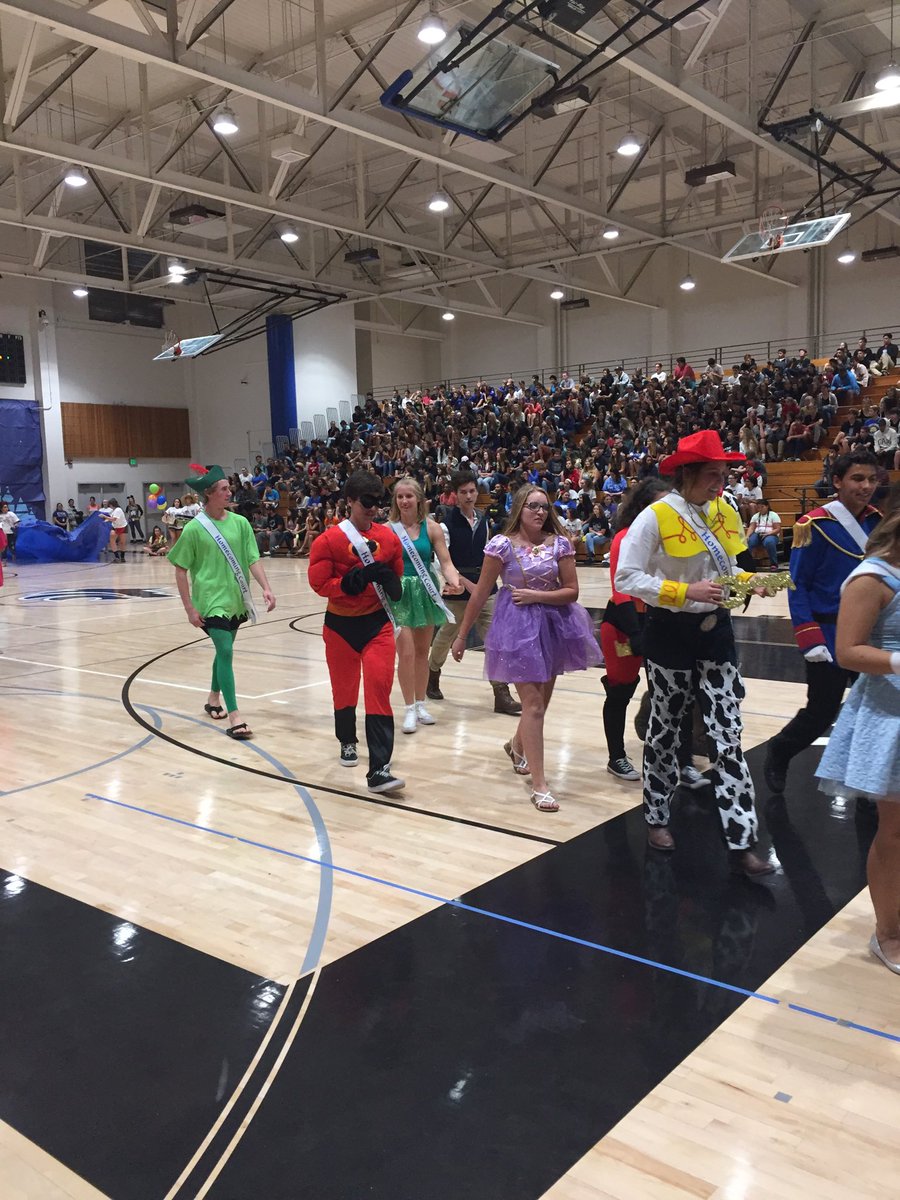 Some of the Homecoming Court dressed to impress and to entertain their peers during our assembly.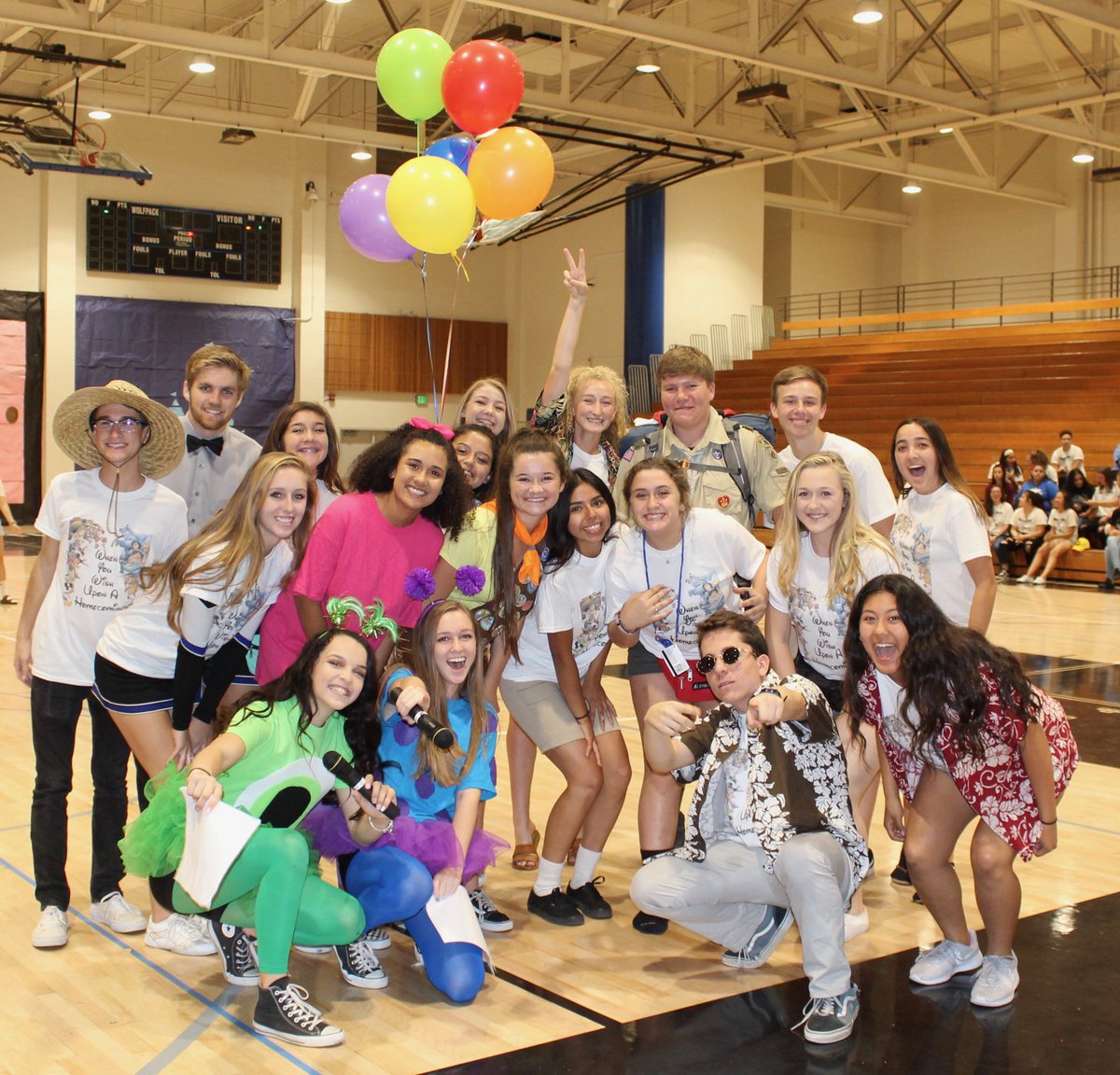 Spirited ASB pulled off an outstanding Disney themed Homecoming Assembly!
Please check out our ATTENDANCE policies linked in our
STUDENT HANDBOOK
online at
wolfpack.guhsd.net
under "Students". Please remember to CALL in
956-0434
all day absences, and send a note for partial day absences. We are sorry, but we are not able to deliver to classrooms forgotten items--if a student knows to come to attendance to come pick up their items, they are welcome to do so without MISSING class.
Please remember to UPDATE your home address or phone number
with the West Hills office staff
if you move or you have changes.This is critical if your student has an emergency and we need to reach you. Simply call 956-0400 and tell us you need to update your information. The PRIMARY parent or guardian listed in our parent portal can also do this online via their login.
SATURDAY SCHOLARS: Students who have missed school should attend our scheduled Saturday Scholars days.
Please
meet in the Pit to sign in
and be assigned a classroom: We expect any student with 5 or more all day absences and / or grades of C- or lower to attend Saturday Scholars with parent and guardian support. This is an excellent opportunity to support student learning in addition to tutorials.
Students bring your Chromebooks
and we'll be sending out reminders in the portals as well in the student bulletin to attend. Students can bring a snack and water for the break...thank you!
Counselor's Fall Newsletter: Please take a look through our
Fall newsletter.
This was also sent out to each parent and student via the parent and student portal, but in case you missed it, here is another opportunity. All grades are welcome at events for information, priority seating is for current Seniors.
College and Career Readiness: Focus on College
We had the following colleges and universities on campus at student lunch, taking questions and providing information for any interested students. More to come as we approach the important November 1-30 month for applying to the UC and CSU systems and many other colleges and universities. Seniors are writing college application essays and Counselors have presented in classes in September to help Seniors know and understand the process. Please see our full Counseling
website links
for more resources.
Tues. Sept. 26
Mon. Oct. 2
12:30 pm
- Northern Arizona University
12 pm
- Ohio State University
News from around the campus...
Mrs. Biggerstaff's students earned community service on the minimum day in September by working in the garden. Students enjoyed learning about a variety of plants, soils and how to nurture growing things.


Health Careers Pathway:
Students interested in any aspect of having a career in health are encouraged to join the health career pathway club. The club meets at
lunch on Thursdays in room S9
. Field trips, internships and other work based learning opportunities are discussed and scheduled through the club. Questions? See Ms. Biggerstaff in room S-9.
At West Hills, our teachers are always looking for innovative ways to engage students with learning. Below are some recent highlights from our 9th grade Global Studies team.
Digital Citizenship Poster Winners - In conjunction with a unit on digital citizenship, Mrs. Morrison and Mr. Reyes's students created digital posters to raise awareness on various topics and then classes voted for the ones they thought were most effective. The two winning posters from each teacher are now featured on the library's big screen television, which was generously donated by the West Hills Foundation.
BreakoutEDU Challenge - You've probably heard of escape rooms. In education circles, BreakoutEDU transfers this concept to a classroom setting, with students using clues to figure out how to unlock their way into boxes. Recently, Mr. Reyes's students worked collaboratively in teams, applying their geography knowledge and using problem-solving skills to "break out." This video captures some moments from their experience.
On October 3rd several WHHS Key Club students volunteered at the Manufacturing Expo held at Allen Airways Flying Museum at Gillespie Field. Key Club students helped with attendee registration and acted as guides. The Expo showcased dozens of East County manufacturing companies, allowing students and job seekers to network with local companies and learn about the manufacturing field. Any student interested in joining Key Club is welcome to -- See Mrs. Morrison in Rm. SS-10.
Student volunteers included:
From the world of DRAMA...

.please join us for our newest musical comedy:
On September 9th, Wolfpack Theatre participated in Techfest, an annual event at Grossmont College. Students learn skills from technical theatre workshops led by professors and compete in a Tech Olympics. West Hills won 2nd place!
In mid-September, Wolfpack Theatre hosted the (SDTEA) San Diego Theatre Educators Alliance's Student Leadership Conference. Student Board leaders (West Hills has five students on the SDTEA Student Board) lead 45-minute workshops on Leadership, Drama Club, and Teamwork. Students from all over GUHSD attended. We are proud of our thespians and their leadership experiences!
At the San Diego Mega Arts Conference in October, all schools within San Diego County were invited to participate and West Hills Wolfpack Theater students along with other theater students from Valhalla, Monte Vista, Mira Mesa, and La Jolla High School helped over 600 teachers. They helped with setting up classrooms, breakfast, lunch, and more! We are proud of their talents AND their support for all things ARTS!!
During August, if your 11th grader took the California "state tests", you were mailed your student's test results. These exams are given in grades 3-8, and 11. In addition, you will see Science exams in grades 10 and 12 and a suite of adaptive exams given to students with IEPs in some cases (CAA) . West Hills received our overall test results and we are VERY PROUD of our progress! We improved our
English Language Arts (ELA) results
almost 10% and our
Math results
about 1% from last year.
This means once again, West Hills scores at the TOP of all high schools in the GUHSD!!
We continue to work tirelessly to educate all students with a rigorous and standards aligned program and know this is just one facet of supporting the whole student. If you would like more information regarding any or all of these exams, please visit
this website.
For YOUR Student!
By 2020, 65% of all jobs will require postsecondary education. Employers are demanding highly trained, competent and skilled workers in a wide array of industries. That's why the Grossmont Union High School District and Grossmont-Cuyamaca Community College District have joined forces to set all GUHSD students up for success. Students in the Class of 2019 and beyond from
these east county high schools
are automatically considered Higher Edge Scholars and will be able to participate in exciting new programs that will begin to be offered to students in the 2016/17 academic year.
Students that fulfill the requirements of the Higher Edge Promise Scholarship criteria will be rewarded with FREE college for their first 30 units at either Grossmont or Cuyamaca Colleges.
West Hills is in our accreditation process cycle readying ourselves for our WASC Visiting Committee to inspect our school March 18-21, 2018. Every public school in California goes through periodic accreditation and examination from the Western Association of Schools and Colleges (WASC). We will be reflecting on and evaluating our school program in its entirety and reaching out to students, parents, faculty and staff as we go through this year of our self study.
We thank you for your understanding of our WASC Work Days
and various times when our offices are closed (rarely) so faculty and staff can work together. As part of our work, we have taken parent, student, faculty and staff survey results and created our
Student Learning Outcomes (SLOs).
We believe this continues to fulfill our mission as a 21st Century school while supporting all student learners to the best of our ability. We will be sending out more information via the Parent and Student Portal and thank you for your support.
PARENT and COMMUNITY SUPPORT:
A huge THANK YOU to all parents, grandparents, guardians, and wonderful West Hills Wolf Pack families for all of your support through the years. We have two wonderful organizations that work TIRELESSLY on behalf of our school and our current students:
PTSA
and the
West Hills High School Foundation
.
PTSA focuses on the current school year and the current students. The Foundation reaches out to Alumni and current parents to support school wide needs and activities. We hope you will
JOIN them
and continue the great tradition of exemplary parent and community involvement in our school!
eSCRIP
--If you aren't signed up for another school, please sign up for WHHS! Go to
this link to sign up
..it's FREE! Vendors donate a portion of your shopping back to WHHS (it costs you nothing). We use the supplemental funds for things like saving towards our WEIGHT ROOM, beautifying the campus with benches, T-Shirts for School Spirit like our "We are one, We are the Pack" West Hills Wednesday Shirts, and much more!
Need some laughs? Please join us for a great night of comedy sponsored by our own WHHS Foundation!
All proceeds benefit WHHS!
We are saving up to buy SHADE for our students!!
Go Wolf Pack!
Until next month West Hills families...We are One, We are the PACK!