Welcome to the 2018-19 school year!
The mission of West Hills High School is to graduate critical thinkers and problem-solvers who contribute positively to society as productive, responsible citizens.
Mrs. Robin Ballarin
Welcome students, parents and community partners! We are very excited to begin the 2018-19 school year. With over 1700 students, we are proud of our
U.S. News and World Reports Silver ranking
as one of the "Best High Schools in the United States". Much of that excellence is the focus we have on the most powerful relationship in schools--that between the student, the teacher and the parent. We continue to enroll students daily and are balancing class sizes with the priority on meeting graduation and post-high school goals for each individual student. We appreciate your patience with us as we remind everyone that our bell schedule day is 7:15-2:47 p.m. daily. Students are welcome on campus before and after school and we encourage all students to look at our
Fall sports
as another healthy and great opportunity to participate in all our high school has to offer. We will also have our annual Club Drive sponsored by ASB in a few weeks and encourage all in the school community to look at our
Student Bulletin
online. This is read daily at the beginning of Period 3 and is our main communication to students of important information they need to know. Student Clubs are a great way for students to meet at lunch, share common interests or learn about new interests. With faculty or staff volunteer advisers, a full
Club list
for this year will be published once the Club Drive is completed and registered with ASB. We are excited for all the learning, growth, and achievements 2018-19 will bring. Thank you for your continued support and involvement.
PTSA
and the
West Hills High School Foundation
are two organizations that welcome your involvement and membership. Please reach out to them with any questions.
Here's to the start of another terrific year! Go Wolf Pack!
Please mark your schedules--
Wednesday, September 5 is our "Back to School" night
where you can visit your students' classrooms and meet their teachers. Classroom visits begin at 6:00 p.m. with optional activities starting at 5:15 p.m.
Here is a handout
with additional information. Reminders will be sent via the parent portal and to your student via their period 3 class. Looking forward to seeing you on campus!
We are very proud to announce that once again we have earned the highest accreditation term a school can earn--a full 6 year term! This is very important to our students and graduates since the WASC certification is a mark of excellence and certifies to colleges, universities, the military and trade schools that we meet the expectations of a thorough, comprehensive and dynamic school program, serving and meeting the needs of all students. Take a look at our Visiting Committee WASC report and findings. We thank ALL parents, students, faculty, staff and community members for your involvement and support of our school and programs!
We are very proud to announce that West Hills was selected in a competitive grant process through the Department of Defense for the National Math and Science Initiative (NMSI) grant.
We thank the parents and students who last spring answered our plea to complete a short google form if they were a military dependent so we could see if we were eligible to apply..and we were!
Worth $300,000 over three years, the goals of the grant are to reach out to high schools with military dependents, offering Advanced Placement courses in Math, Science, English and Computer Science to expand the number of courses offered in these subject areas AND to increase student achievement in those courses.
Through additional professional development and training of AP teachers in these content areas, additional Saturday study sessions for students, and possible financial rewards for students earning a passing score of "3" or better on exams in these areas, the NMSI Grant aims to improve College and Career Readiness for ALL students who choose to take AP courses.
The last day for School I.D. and yearbook photos for grades 9, 10 and 11 is August 23.
Students may come to the Gym Foyer b
efore school, at break, at lunch, and after school to get this taken.
Every student is required to have a West Hills student I.D. and to carry it with them on campus and to school activities daily.
Class of 2019....
Be on the look out for the Senior Parking Lot Auction information in the school bulletin soon and check out
buying your Senior Package online
or at the Finance Window. Keep an eye out on
this page
of our website for Senior only information regarding Graduation, Announcements, ordering of graduation cap and gown, etc. More information on ordering Senior T-Shirts will be in the bulletin too....
Senior Photos
are taken through Lauren Studios. The sitting for the senior section of the Yearbook is free with optional choices for Senior portraits. All seniors must be photographed by Oct. 14 and need to make an appointment via the Lauren Studios website. Emails to seniors and their parents began in June, with appointments beginning in June as well.
Last chance for senior formals!
If you haven't had your senior formal taken, please go to Lauren Studios
here
. Go to the box on the
LEFT
, and enter your client ID.
Your client ID is
19WHHS-######
<--- your 6-digit school ID number
If you do not take a senior
formal
, your ID photo will be used in the yearbook instead.
We want ALL SENIORS in our Yearbook--make an appointment today!
last week.We hope interested parents will take a look
at this information and consider volunteering for this
two year committee to serve our school.
Thank you to all for a great start to school!
Mrs. Romanowski's AP Literature seniors set goals this week for the year...can't wait to see how many they accomplish! Check out some powerful reasons why working with students in setting goals at the start of the school year can make a difference.
Seniors: If you are a member of PTSA, keep an eye on the Counseling Scholarship page. PTSA sponsors scholarships each year for deserving Seniors but you have to be a PTSA member to apply AND you have to complete the application and turn it in. PTSA membership forms are in the main Admin building in reception.
Did you know that if you shop at
smile.amazon.com
and choose "whhs PTSA", Amazon will donate a portion of your purchase (at no cost to yourself) to WHHS? smile.amazon.com is the same exact pricing and website as the traditional Amazon url but it allows you to select a non-profit organization for Amazon to support.
Please "share" with family and friends and help WHHS!
Chromebook Information for the 2018-19 school year is available and important deadlines are coming up...please click the link for additional important information regarding purchasing the optional insurance for this school year (deadline Sept. 30, 2017). Students need to bring their own Chromebook and charger daily to school and we ask they report theft, loss or damage ASAP to the library so we can assist them in solving the issue.
A new addition to the Chromebooks for students is the Students Speaking Out app that appears on every students Chromebook after logging in. Part of the San Diego County Crime Stoppers initiative, students now have an easy to report option. Please read the link above for more information.
Please check out our ATTENDANCE policies linked in our
STUDENT HANDBOOK
online at
wolfpack.guhsd.net
under "Students". Please remember to CALL in
956-0434
all day absences, and send a note for partial day absences. We are sorry, but we are not able to deliver to classrooms forgotten items--if a student knows to come to attendance to come pick up their items, they are welcome to do so without MISSING class.
Please remember to UPDATE your home address or phone number
with the West Hills office staff
if you move or you have changes.This is critical if your student has an emergency and we need to reach you. Simply call 956-0400 and tell us you need to update your information. The PRIMARY parent or guardian listed in our parent portal can also do this online via their login.
Join the free resource for information if WHHS has urgent information for you regarding an EMERGENCY or for a timely TRAFFIC update. Text
@bf6c9d
to
81010
from your cell phone to join. This is a "one way" messenger only and you control if you want to continue receiving the texts or not.
9th Grade Chromebooks

- 9th grade students will be checking out Chromebooks with their Global Studies classes. Please make sure to get the

Responsible Use Policy (RUP)

signed and returned to your Global Studies teacher on time in order to check out with your class. You will receive a printed copy of this packet in class.
Chromebook Summer Issues

- Returning 10th, 11th, and 12th grade students should make sure to charge, turn on, and log into their Chromebooks to make sure they are functioning as expected. For damaged and lost/stolen Chromebook items, students may go to the library for help during

open hours

when not in class or during class as teachers allow.

New 10th, 11th, and 12th Grade Students

- New students who do not have Chromebooks must first see the Guidance Center to turn in a signed

Responsible Use Policy (RUP)

and complete the related webinar. They will receive a paper "ticket" to bring to the library to check out a Chromebook during

open hours

when not in class or during class as teachers allow.




A
friendly reminder from our school nurse,
Mrs. Lori Farra
...please drop off any medications that your student needs during the school day in the Nurses' office. Students are not allowed to carry medications of any kind unless cleared with her and Administration. This includes over the counter medications of ALL kinds. At no time may students "share" medications with other students.
We thank the parents and students who have already done so for this school year.
News from June and summer 2018......
Congratulations to our CIF Champion Gymnastics Team and
First Team All CIF Gymnasts!


Mackenzie Ryan, Gymnastics
Tessa Anderson, Gymnastics
Linnea Campbell, Gymnastics (Coach)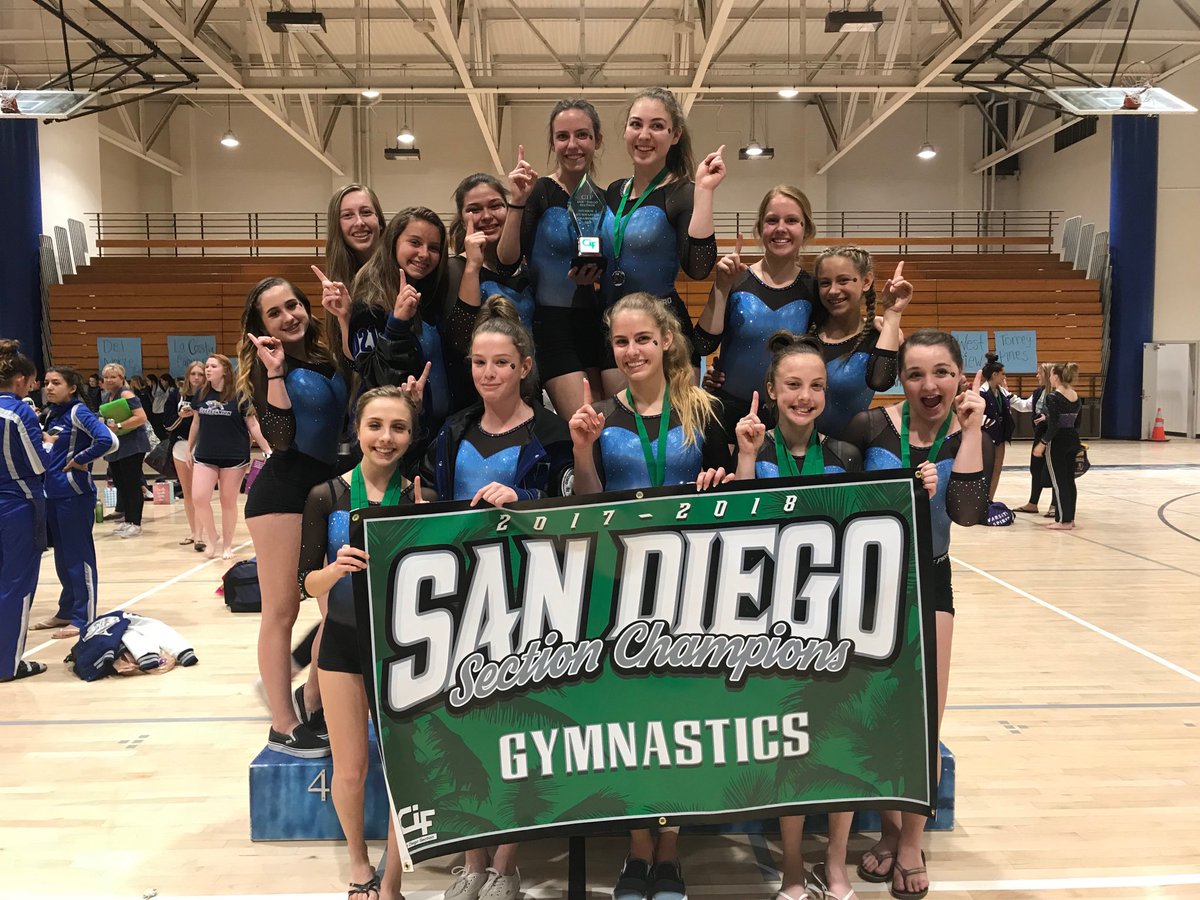 On June 12, 2018 CIF San Diego Section celebrated athletes throughout San Diego County at Petco Park. Mackenzie Ryan (grade 9) , all round CIF champion proudly displays her awards.
Thank you Coach Linnea Campbell and girls for a terrific season!
Fall Athletics are well underway....check out
our athletics website
for contact information for specific coaches and sports as well as sports clearance forms, information for student athletes and parents, and much more! We rely on each sporting program to keep our website up to date so please contact the coach if you have a question or we can help you in any way with athletics.
Every year, National Youth Arts (NYA) Association has judges that come to youth theatre productions, critiques the shows, and then has an award show in the summer. NYA critiques shows from San Diego to LA, Colorado, Arizona, and New York.
This year, the awards show was on July 16th and

West

Hills

won three awards and 11 nominations (the most nominations we have ever received)!

In our area of San Diego, we were up against a lot of private organizations (like CYT, YAT, etc), private schools, and fellow GUHSD schools. Below are the awards:
Awards:
1. Bailey Richardson for Outstanding Lead Performance in a Musical for William Barfee in The 25th Annual Putnam County Spelling Bee.
2. Kyle Long for Outstanding Supporting Performance in a Musical for Leaf Coneybear for The 25th Annual Putnam County Spelling Bee.
3. Carrin Edwards won Outstanding Direction for A Midsummer NIght's Dream. But, it's not really about me, it shows how hard the kids worked on this show. We are the only school in GUHSD that has won 4 Outstanding Direction Awards in the last 5 years which says our students are wonderful!
Below are some pictures and all of our nominations. Thanks so much for taking the time to read this email. Have a
great
summer!
Nominations:
Outstanding Performance in a Musical: Maryhanna Leraas, The 25th Annual Putman County Spelling Bee.
Outstanding Performance in a Play: Savanna Clyne: A Midsummer Night's Dream
Outstanding Performance in a Play: Emily Tripp: A Midsummer Night's Dream
Outstanding Performance in a Play, Christina Keegan, A Midsummer Night's Dream
Outstanding Performance in a Play, Ash Rossman, A Midsummer Night's Dream
Outstanding Performance in a Play, Skylar Strubbe, A Midsummer Night's Dream
Outstanding Performance in a Play, Kimberly Watkinson, A Midsummer Night's Dream
Outstanding Performance in a Play, Lindsay Wilson, A Midsummer Night's Dream
Outstanding Ensemble: The 25th Annual Putnam County Spelling Bee
Outstanding Costume Design: Ali Loeza and Carrin Edwards, A Midsummer Night's Dream
Outstanding Sound Design, Carrin Edwards, A Midsummer Night's Dream
\
From left to right
Illya Kulinych, Lizbeth Hoffman, Makynzie Floyd, Ms. Corrie Biggerstaff, Science Department Chair and teacher, Victoria Carrico, Hannah Daggy and Ilan Matkovski
West Hills students had 6 of the 20 spots for the Grossmont summer hospital internship program.
The Healthcare Exploration Summer Institute (HESI) is an immersive hospital internship program at Sharp Grossmont Hospital which has hosted over 200 students since its inception in 2004. Each student rotates through up to 14 different departments and gathers information about careers in healthcare to help them plan their futures as they begin to enter college. This program has such an impact on its graduates, helping them to make informed decisions about what career paths are right for them, ultimately leading to greater success in their lifetimes.
We are very proud of our Health Pathway Scholars!
In other Science classroom news....
Mrs. Addy's AP Chemistry students had the opportunity to perform real, college-level research in Dr. Beauvais' Inorganic Synthesis lab at Point Loma Nazarene University this summer. Students are pictured learning proper techniques for handling air sensitive samples and working in a nitrogen atmosphere glove box. This year the program will be opened up to include highly motivated honors chemistry students.
Go Wolf Pack!

The "Wolf Call" is a monthly news blog for students, parents and community partners.