The mission of West Hills High School is to graduate critical thinkers and problem-solvers who contribute positively to society as productive, responsible citizens.
Mrs. Robin Ballarin
Thank you to more than 600 parents who were able to attend our PACK Day on Friday, March 2! We hope you enjoyed a glimpse into your students' West Hills world. We want to thank parents who volunteered for our accreditation parent meeting coming up on Tuesday, March 20. We followed up with each one we knew about and welcome more voices. If you would like to sit in on a confidential focus group discussion with our Visiting Committee, please call the Principal's secretary, Mrs. Ginny Bell at (619) 956-0412 for more information. We look forward to our WASC Visiting Committee being on campus March 18-21, 2018 as they have read our
Self Study
and conduct their visit to affirm our findings and make recommendations for our term of accreditation.
We have a lot going on in the next few months of school and look forward to continued good success with our students!
School safety is our first priority. Hopefully you have seen or read the Superintendent's letter sent out earlier this week and our own communication on student safety regarding possible student action on Wednesday, March 14, the call to march nationally by Stoneman High students on Saturday, March 24 and possible call to political action on April 20. We are committed to maintaining our educational focus while respecting all viewpoints. Students, faculty, staff, parents and community members are expected to be respectful, responsible and honorable at all times and maintain an educational and instructional focus. We appreciate your support in helping us focus students discussion and actions on that which can directly affect those they mean to affect and encourage student and community discourse within the idea of the teachable moments. We will continue to maintain campus security and safety and treat all in our community with dignity and respect.
Please join us in welcoming our new School Resource Officer (SRO), Deputy Janae Krull, Deputy Krull has prepared to be a School Resource Officer by participating in undercover work in local high school district for a year (a few years ago at the start of her career), attending Camp LEAD, shadowing both our former SRO Collins and Santana's SRO, working the juvenile cases in her normal day, meeting and working with Juvenile Detectives and studying laws involving juveniles and particularly those that involve schools and juveniles. On campus full time,
we are excited to welcome Deputy Krull!
​Please join me in congratulating Mrs. Barbra Ruggles, English Learner Coordinator and English
teacher
as our "
Teacher
of the
Year
" for 2018-19! Below is Barbra with her period 6 ​ELD class and others as we surprised her with this
selection
. The committee
selection
is always a tough one for WHHS with so many talented and dedicated
teachers
. Comments noting her involvement in helping our English Learners, providing resources and materials for
teachers
, and her long-time literacy efforts cinched her
selection
!
Mrs. Ruggles will go on to represent West Hills in the District "
Teacher
of the
Year
"
selection
which is part of the County and State
selection
process.
Our students are lucky to have Barbra as a
teacher
and we are lucky to have her on Faculty!
West Hills 30th Year Gala and Hall of Fame event
A huge
THANK YOU
to our wonderful West Hills Foundation Gala Committee and Hall of Fame Committee for making the Saturday, March 3 Gala a wonderful evening of celebration for West Hills and honoring five tremendous scholar-athletes! The
Foundation Gala Committee
include Co-Chairs Lisa Hurst and Melissa Smith; Karen Fleck, Robin Ballarin and Maria Lenhoff.
Hall of Fame Committee:
Don Rutledge, Todd Peterson, Josh Reiderer, Ginny Bell, JoAnn Johnson, April Baker, Maria Lenhoff, Robin Ballarin, first Principal of WEst Hills, Bob Guess with MC duties from original faculty member Jeff Boutelle, amazing music for the night from teacher Deborah Heeb and tremendous volunteer support from site substitute teacher Noelle Johnson. We would also like to thank ASB, Ardy Riego and Suzanne Sannwald for their constant support and involvement. Thank you too goes to all Faculty, Staff and community members who donated items for the Auction and who attended. We want to thank Glen Millen and San Diego Graduate Supply for their donation of the beautiful awards. The West Hills Foundation is currently raising funds for shade structures on campus and continuing to contribute to a capital fund for building a new, independent weight room on campus large enough to fit all of our athletes AND equipment! While this is a long-term project, we know that little by little we CAN make this happen.
News from our Guidance Office.....
Grossmont/Cuyamaca College Applications available now!

Complete the entire

process

prior to the end of May to earn priority registration
For those students who submitted applications to 4 year universities, make sure to check your email (the one you entered on your application) and/or access the school's portal regularly to make sure you stay on top of deadlines (sending SAT/ACT scores, official transcripts, etc.)

Check out the Counseling Scholarship page. There are always scholarships posted by month of due date and ones that are on-going. This is where you will find the Staff Scholarship, PTSA Scholarship, and WHHS Foundation Scholarship posted as well as many others.
Please look at both the Counseling web page for Seniors and the general page for Seniors for important Graduation information like cap and gown ordering (including free loaner gowns) and other information Seniors and their parents / guardians will find of use. The PTSA also has a special "Grad Bash" information page for the WHHS Senior night at Universal Studios sponsored and organized by PTSA in conjunction with WH Senior Class.
11th grade students planning to attend a 4 year university should take the
SAT (click here) and/or ACT (click

here

) this school year. This is something students and parents do on their own through reading the links and signing up online. Attending the testing session and completing the test is up to the student and parent.
If you have not submitted your SIGNED Wish List for next year's classes

please get that to your counselor ASAP!

Parents / Guardians need to have seen these course wish lists for next year and sign they approve of their student's selection.
If you have not submitted your SIGNED Wish List for next year's classes please get that to your counselor ASAP! Parents / Guardians need to have seen these course wish lists for next year and sign they approve of their student's selection.
Counselors will visit 9th grade Math classes this Friday 3/16 to discuss course selections for next year as well as post-secondary requirements. Students will bring home their "Wish Lists" that need to be signed by a parent/guardian and returned the following week when the class will visit the counseling office for individual counselor/student conversations.
We proudly present our Spring theater production.....
Please join the cast and crew of this wonderful show at any of our performance dates below....
And, in continuing the tradition of West Hills Theater excellence, on Saturday, February 10
our students participated in Dramafest,
a competition of high school scenes and monologues from all over San Diego County held at Grossmont College. We had monologues that made it to the Semi-Finals! A hard feat to attain. Also, we had students crew the entire event which includes being a timer, door guard, set-up, clean-up, and overall organizational support.
Dramafest
would not have happened without them. We are proud of our thespians!
Thank you Sgt. Dawson and the US Army for choosing to support our students through your generous volunteering and $500 donation to our ASB! We appreciate your work with our PTSA, leading ENS classes in physical challenges and volunteering (with your young sons) to check in students at our dances! ASB will put this money to good use to benefit our students!
World War II Living History with
Mr. Dan Sutton and colleagues this past Friday
To Kathy Worley, Suzanne Sannwald and Joe Sklenicka for hosting our OtterCares Foundation (OtterBox cell phone cases) and LIfeProof Engineers on Thursday, Feb. 15 for a day of "showing off" our Advanced Manufacturing and Library "Maker Spaces" supported in part with their generous $10,000 grant. We had terrific students who showed them projects and ideas they were working on and the Engineers spoke to our students about their careers and what they do in their everyday lives at work. We plan to GROW our Advanced Manufacturing and Project Lead the Way (PLTW) Aerospace Engineering Pathways next year by adding a year 2 class to the PLTW taught by Tiffany Jokerst (Math teacher).
West Hills students: Travel to Costa Rica and engage cultural and science study
Once again West Hills will have a group of students traveling to Costa Rica! Be ready to do scientific research in the rain forest, go white water river rafting in the Sarapiqui River, zip lining over the cloud forest canopy and much more. Contact Ms. Kohler for more information at
jodikohler@guhsd.net
News from the Best Buddies Club
The Best Buddies Club of West Hills High is one chapter in the organization, Best Buddies International. For seventeen years our chapter has successfully promoted friendships through fun activities and volunteer opportunities. Best Buddies International is
dedicated to establishing a global volunteer movement that creates opportunities for one-to-one friendships, integrated employment and leadership development for people with intellectual and developmental disabilities (IDD). Best Buddies meets Tuesdays in the Library..all are welcome to attend!
We combine classroom curriculum and functional living skills teaching with fund raising so club members can have fun social times outside of school as well--go bowling, visit the beach, and attend a movie together are some of the activities. One fundraiser brand new this year on campus is the Flower Stand.
Best Buddies' Flower Stand (thank you Ms. Worley and her wood shop students for making the stand for us!)! We sold out of flowers on Valentine's Day in about 10 minutes! We will sell flowers again for St. Patty's Day, sometime in April when we return from Spring Break for Spring Flowers, in May for Mother's Day, and at Graduation. Please look for us on campus and at Graduation to support this wonderful club bringing teens together in friendship and support!
Here are some Club members enjoying a BBQ at a members' house during winter break...
News from the world of English and Science.....
Sophomore honors and some Theatre students were thrilled to enjoy a student matinee performance at The Old Globe Theatre in Balboa Park on February 28th. Students in Mrs.

Ruggles

and Mrs. Romanowski's classes read the comedic play "The Importance of Being Earnest" as part of their English coursework. The students commented that it was an excellent performance and so wonderful to see a play "come alive" on the stage. A huge thank you goes to The Old Globe for their efforts in supporting students attending the arts.
Sophomore honors students in Mrs.
Ruggles
's and Mrs. Romanowski's classes participated in a PACK day activity with their peers and parents. Students are reading
Life of Pi
and for the day were "Lost at Sea." Students had a list of 15 items that were salvaged from a boating accident and were stranded at sea with only these items. They were tasked with ranking the order of importance to survival for each of the items. Parents joined in and provided some helpful insight on each item listed. Most groups fared well and were rescued while enduring a tough time at sea.
Science students enjoy the *Salk Institute facility with Ms. Biggerstaff and Ms. Addy. Our teachers are committed to exposing our students to the world class research happening right here in San Diego and frequently offer optional Saturday Science days each month! Thank you to our UCSD, PLNU, Scripps partners and many others for opening their doors and their labs for our students to experience!
*Corrected from original posted as the Scripps Institute. West Hills apologize for this error.
Congratulations to all of our Winter sports for terrific seasons. Below are some notable highlights shared with us....
A special shout out to Girls Soccer and coach Robert Romero for winning their League title and advancing through rounds of the Open CIF competition to defeat number 1 seeded Torrey Pines only to end with heart breakers against Eastlake and Poway. Great season ladies and Coach Romero!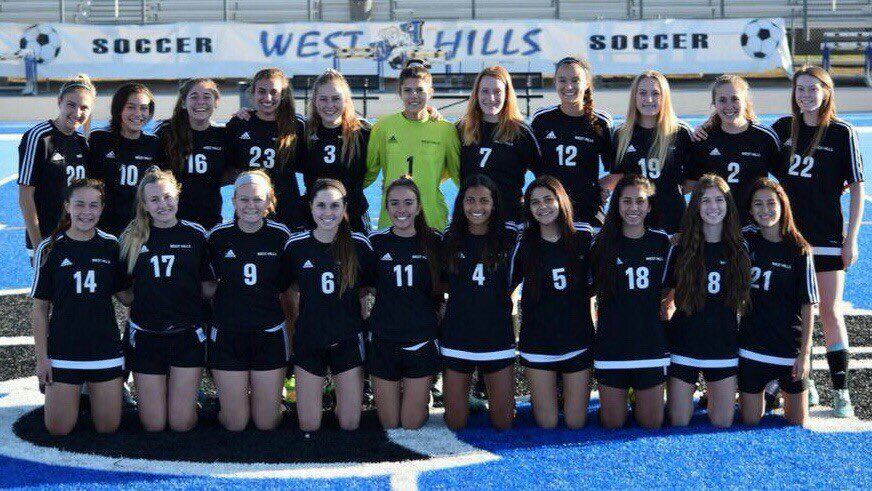 West Hills Wrestling Coach named "Coach of the Year"
Congratulations to our own Varsity Wrestling Coach Mike Proctor selected by his peers as the Grossmont Hills "Coach of the Year".
Mike is a dedicated father, husband, coach and terrific mentor dedicated to coaching young men and women in the fine art of wrestling. Building a terrific program, we are so proud of Coach Proctor and all of his athletes and fellow coaches!
Congratulations
to our West Hills Varsity Cheer for their showing at the JAMZ Nationals competition last month. Check out their award winning performance and congratulations
Not to be outdone, our own JV Cheerleaders performed amazingly at the same national competition. You can watch their terrific performance
here!
Great work girls!
HEY Pack
Let's keep the great kindness challenge going and participate in something as a school. Clubs, Teams, Departments, Friends and Family
Saturday, March 24, early morning
PTSA thanks everyone who donate items or funds / gift cards for Supply Day! Teachers and staff really appreciate YOU and thank you for your generosity!
Seniors:
If you are a member of PTSA, keep an eye on the
Counseling Scholarship page
. PTSA sponsors scholarships each year for deserving Seniors but you have to be a PTSA member to apply AND you have to complete the application and turn it in. PTSA membership forms are in the main Admin building in reception.
Did you know that if you shop at
smile.amazon.com
and choose "whhs PTSA", Amazon will donate a portion of your purchase (at no cost to yourself) to WHHS? smile.amazon.com is the same exact pricing and website as the traditional Amazon url but it allows you to select a non-profit organization for Amazon to support. Please "share" with family and friends and help WHHS!
Join the free resource for information if WHHS has urgent information for you regarding an EMERGENCY or for a timely TRAFFIC update. Text
@bf6c9d
to
81010
from your cell phone to join. This is a "one way" messenger only and you control if you want to continue receiving the texts or not.
Please check out our ATTENDANCE policies linked in our
STUDENT HANDBOOK
online at
wolfpack.guhsd.net
under "Students". Please remember to CALL in
956-0434
all day absences, and
send a note for partial day absences
. We are sorry, but we are not able to deliver to classrooms forgotten items--if a student knows to come to attendance to come pick up their items, they are welcome to do so without MISSING class.
We send out important information via our Parent and Student Portal.
Please check your email, mobile phone text or home phone voicemail for this information or contact the school if you know your student has missed a full day of school and can attend Saturday School / Scholars to have additional time to make up the attendance time and the school work.
As always, check out our
website
for lots of information. Go Wolf Pack!