Principal's Message
With the first semester coming to a close, I would like to ask parents to encourage their
students to buckle down and finish strong in their classes. Final exams are right around the corner, but it is still not too late to take advantage of the time we have left. Students can still participate in tutoring, and talk with teachers to get that extra bit of help down the home stretch.
Final exam days are minimum days and listed below:Monday, December 19
Finals Period 1 or 7 8:14 - 10:11
Break 10:11 - 10:27
Period 4 10:33 - 12:30

Tuesday, December 20

Finals Period 3 8:14 - 10:11
Break 10:11 - 10:27
Period 5 10:33 - 12:30

Wednesday, December 21 – last day of fall semester

Finals Period 2 8:14 - 10:11
Break 10:11 - 10:27
Period 6 10:33 - 12:30

Thursday, December 22 Teacher and Staff Work Day – No students

I would like to thank our students and teachers for a great first half of the school year.
Besides all of the impressive work happening inside the classroom, we saw a lot of great achievements by our fall athletes and our performing arts students. I cannot wait to see what the second half of the year has in store for us!

Go Wolf Pack! We are Respectful, Responsible and Honorable

Mrs. Robin Ballarin
Our semester ends December 21, 2016.
Please look at your students' grades and talk with them about their progress--both successes and challenges. Please know that our goal is your students' success! Please contact teachers with individual questions about the grades you are viewing as well as ways for your student to improve if they are earning below a "C" in any course.
There are two weeks left in this semester until final exams--
Final exams are December 19-21, 2016. Please avoid pulling your student from this week for travel.
This is VERY difficult for students to return and "make up" final exams--they typically do not do well and their permanent, final grade on their transcript is often affected negatively. Our complete bell schedule, including Final exam schedule, is available here and on our website.
All students must earn 220 credits to graduate and colleges and universities accept "C" grades and higher. Military careers ask for many of the same requirements so this is a CRITICAL AREA for support and encouragement for our students. Any grade of an "F" must be made up to earn credits towards graduation. Teacher contact information as well as Guidance information and our tutorial schedule may be found on our website at
wolfpack.guhsd.net.
Exciting Fund Raising Benefit for WHHS!
The
West Hills High School Foundation
is proud to sponsor alumni Dat Phan (Class of 1993) in our theater on
Saturday, January 21, 2017
for a benefit for our West Hills facilities fund! Come see Dat Phan and his comedy along with current WHHS Performing Arts students and selected other performers. All proceeds benefit WHHS!
Our Academic League is going up against SANTANA for the "Mayor's Cup" this Wednesday, December 7 in S-8 starting at 3:30. J.V. remains UNDEFEATED with 5 wins and 0 losses--VARSITY is playing well with a 3-2 record. CHEER on these students as they compete against Santana this week! (Not all participants are pictured....) Kudos to Mrs. Liddell and Ms. Biggerstaff for leading our Academic League participants! Go Wolf Pack Academics!
Wolf Pack English Learner Program News
The English Learner Advisory Committee (ELAC) meeting will be on
Jan. 12

from

3:00-4:00 pm

in E-1.
During this meeting, we will be discussing both graduation and CSU requirements, tutorial for students and other concerns related to student's academic progress. Parents wishing to receive individual student information may email our English Learner Coordinator, Mrs. Barbra Ruggles at bruggles@guhsd.net (in advance of the meeting) in order to provide a more detailed academic progress report from their counselors.
Also, our English Learner Development (ELD) students learned about the Thanksgiving holiday before the break and we tried traditional Thanksgiving foods. Here is a picture of our meal together.
Students wrote letters of gratitude to people they wanted to thank for supporting them in their lives and we went around the class and students practiced their English speaking skills, talking about things we were grateful for. (**Note: the picture includes glass bottles of apple cider).
Our students include those from Guatemala, South Africa, Japan, Iraq, and Mexico. We are enriched and happy to welcome our students from other linguistic backgrounds and cultures!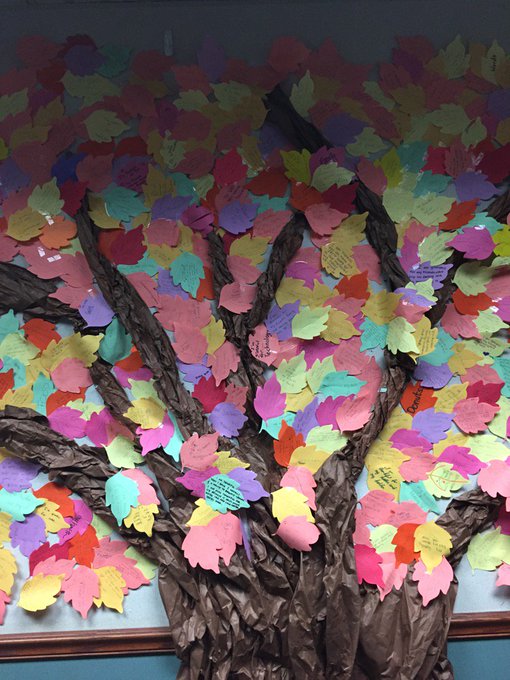 GRATITUDE is a part of our West Hills Way and being Respectful, Responsible and Honorable...West Hills students, faculty and staff wrote "leaves of thanks" for our Gratitude Tree that "grew" throughout the month of November. We strive to model and demonstrate these thanks each day and to follow the
West Hills Way.
Founded in 1987, the first incoming class of freshmen leaders wrote these simple eight principles. Our Student Senate last spring reviewed and confirmed these principles and as we move into our self-evaluation and reflection year for our school's accreditation, we wanted to publish them once again.
Academics First – It's "cool" to study and work hard at West Hills

Treating fellow students, teachers, staff, and visitors well – the way you want to be treated.

No Cliques – "We are one, We are the Pack"

No put downs

Saying "Hi" to other members of the pack, saying "No" to drugs and alcohol.

Using good language – use of profane or vulgar language only shows a lack of vocabulary.

Dressing in a proper manner – clean and in good taste.

Playing hard, but fair and sportsmanlike.
Join the free resource for information if WHHS has urgent information for you regarding an EMERGENCY or for a timely TRAFFIC update. Text
@bf6c9d
to
81010
from your cell phone to join. This is a "one way" messenger only and you control if you want to continue receiving the texts or not.
The West Hills Performing Arts Department has been busy with concerts, competitions, and our terrific run of the musical "Zombie Prom"! Our programs are OUTSTANDING and doing SO MUCH...it is often hard to keep up with them.
Winter Performances are upcoming:
Beginning and Intermediate Guitar Concert: Thursday, Dec. 8, 7:00 p.m.
Advanced Guitar and String Orchestra: Saturday, Dec. 10, 7:00 p.m.
Bob Guess Theater for the Performing Arts
8756 Mast Blvd. Santee, Ca. 92071
$10.00 adults, $8 .00 students
Winter Choral Concert is Friday, December 16 at 7:00 p.m. in our theater as well.
CONGRATULATIONS
to the
and to the wonderful PARENTS and GUARDIANS who support them for completing another wonderful FALL SEASON! They capped off their season with their WINTER Concert Friday night!
We are SO PROUD of YOU!
For future planning, additional performances are below:
| | |
| --- | --- |
| | |
| | |
| | |
| | Spring Beginning / Intermediate Guitar Concert |
| | Spring Advanced Guitar / String Orchestra Concert |
| | |
| | |
| | Theater Production One Acts |
Please check out our ATTENDANCE policies linked in our
STUDENT HANDBOOK
online at
wolfpack.guhsd.net
under "Students". Please remember to CALL in
956-0434
all day absences, and send a note for partial day absences. We are sorry, but we are not able to deliver to classrooms forgotten items--if a student knows to come to attendance to come pick up their items, they are welcome to do so without MISSING class. SATURDAY SCHOLARS (Previously Saturday School) will be starting for students who need extra tutoring or attendance make up time. Notices came out Friday regarding this important opportunity for students. Please check your email, mobile phone text or home phone voicemail for this information or contact the school if you know your student has missed a full day of school and can attend Saturday School / Scholars to have additional time to make up the attendance time and the school work.